What Makes the AIMS Tattooing Process Work?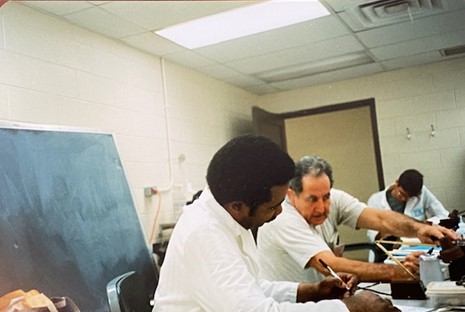 Dr. Yacowitz supervising tattoo training
AIMS pioneered the development of lab animal tattoo identification. Unlike many other companies that offer generic tattoo equipment as a minor product line, our only business is animal tattoo identification. Over the years we have learned that producing permanent identification tattoos requires the combination of specialized equipment, proprietary animal tattooing supplies and the use of appropriate tattooing techniques developed with hands-on experiences over the last 45 years.
Equipment:
AIMS equipment and tattooing accessories are designed to be used in research laboratories and lab animal facilities. AIMS equipment simplifies the tattooing process from start-to-finish. It is the combination of unique tattooing equipment and accessories that produces the most humane system for tattooing research animals. AIMS micro-modular power supply and control box design will keep key parts of your tattoo system from damage and allow easy transport to & from your work area. Equipment set-up & adjustment will be quick and efficient. Equipment cleaning is also quick with AIMS custom 3-step needle cleaning system and needle inspection process.
Another key benefit of purchasing AIMS lab animal tattoo equipment is "after-sale-service" and free unlimited "technical support". All equipment service is done by highly trained technicians and a certificate of service is provided to meet regulatory requirements (GLP etc.). AIMS customers are confident that their tattoo equipment will always be at maximum performance to provide the most humane and efficient animal tattoo identification process.
Supplies:
Safe and effective tattooing supplies are essential for the permanent tattoo identification of research animals. The health and humane treatment of your research animals is a priority with AIMS. AIMS proprietary tattoo pigments, needles, and supplies were developed and tested with the assistance of researchers at NIH and several major pharmaceutical companies. AIMS tattooing supplies have been demonstrated to be safe and nontoxic using in vivo and in vitro toxicology assays.
AIMS tattoo needles, made of the highest quality 401 stainless steel and silver solder, were developed to minimize animal pain and tissue damage during rodent tail tattooing or animal skin tattooing. AIMS tattooing supplies have been extensively used in the animal research field for over 45 years with no reported adverse effects on animal health. AIMS customers can be confident that the health of their research animals will not be compromised and that their tattoo identification supplies will be effective & consistent throughout their research experiments and career as research scientists.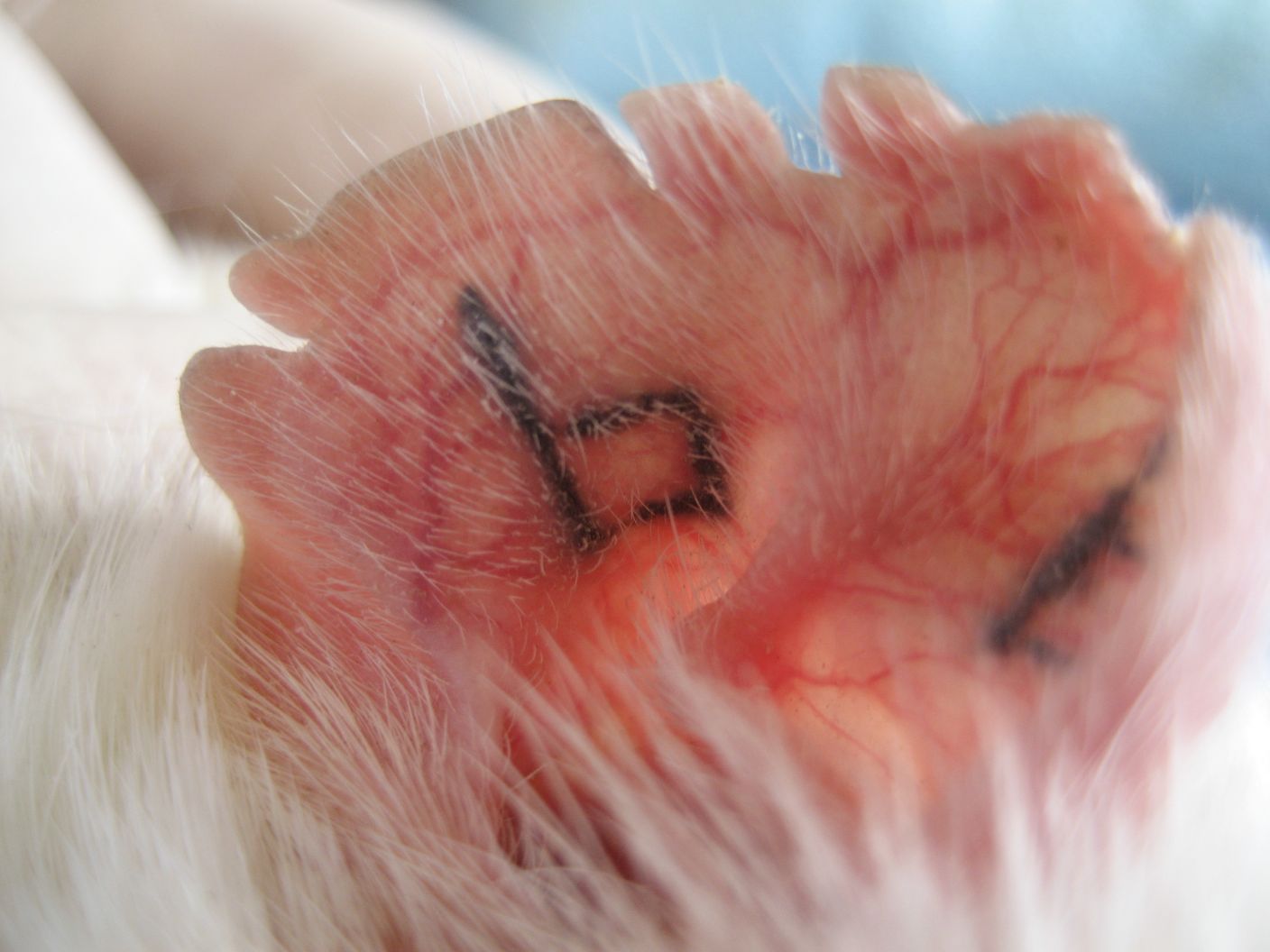 Tattooing Techniques:
The humane and permanent tattoo identification of research animals requires the use of proper equipment and good tattooing skills. AIMS provides customers with access to our extensive knowledge of hands-on experience in the field of lab animal tattoo identification. AIMS customers have access to Ph.D. trained instructors for on-site tattoo certification classes and unlimited technical support. In addition, detailed instruction books that summarize AIMS experiences and techniques in lab animal tattoo identification are included with each tattoo system. The "Equipment Use and Care" book provides customers with detailed equipment setup and use instructions while AIMS technique books provide customers with detailed methods and procedures developed with our hands-on experience in lab animal tattoo identification. Three books are available: "Vol 1-Neonate Tattoo Identification", "Vol 2-Adult Mice and Rats Tattoo Identification", and "Vol 3-Large Lab Animal Tattoo Identification". Each volume includes a self-training module to guide customers in developing good tattooing habits, skills, and techniques. AIMS customers always have access to AIMS extensive knowledge base and technical expertise.
Benefits of Using the AIMS Tattooing System
AIMS equipment, supplies, and services perform above all other tattoo systems available from general equipment distributors. Over the years we have learned that the superior quality of our identification program (not just equipment but proprietary supplies and education) offers customers a significant cost savings as they employ the AIMS tattoo identification program in their facility. The following are some examples of customer savings.
AIMS equipment is significantly more dependable, easy to operate and easy to clean when compared with non-AIMS tattoo systems. You will not waste personnel time keeping your equipment operating. If service is needed, "after-the-sale" equipment service is easily available from AIMS. Our experienced technicians will keep your equipment in peak operating condition.
Tattooing with AIMS equipment and procedures is quick and easy. Our customers routinely tattoo 80-110 mice per hour with three digits. Efficient tattooing reduces personnel costs and is less stressful to animals.
No re-tattooing. Tattoo fading is a major issue with other tattoo systems because of equipment design and inferior quality inks. Animals identified with AIMS equipment and supplies developed specifically for animals, have tattoos that are permanent and easy to read for the life of the animal. Thus, you will have lower personnel costs when compared with non-AIMS equipment since you will not have to re-tattoo animals. Tattoo fading (ID failure) is unacceptable in labs operating within GLP. The quality of your experiments is enhanced considerably when you are confident in your animal identification.
Understanding how to tattoo properly with the right equipment saves valuable personnel time. There is no guessing or trial-and-error with the AIMS process. We teach our customers "how to tattoo properly" with the best equipment. This saves personnel time and provides for the most effective tattooing techniques and humane treatment of animals. In addition, AIMS detailed instruction books and on-site training programs teaches customers "how to solve problems" should they ever have a performance issue with their tattoos.
If you need identification support, AIMS is available, and we can save you time and money by providing you access to our extensive experience in lab animal tattoo identification. If you have a question, concern, or need advice on lab animal tattoo identification, we are always available at no additional cost. Simply email or call for support from an experienced researcher or technician.
AIMS animal tattoo identification techniques and processes are used worldwide in universities, pharmaceutical companies, contract research labs, and government facilities. AIMS tattoo identification is a well-accepted animal identification process in the field of lab animal biomedical research.
Researchers often trade-in their non-AIMS tattoo equipment for credit towards the purchase of a comprehensive tattoo system from AIMS. Selecting an AIMS tattoo identification system for your research will facilitate your research and save you time, money, and a lot of frustration.